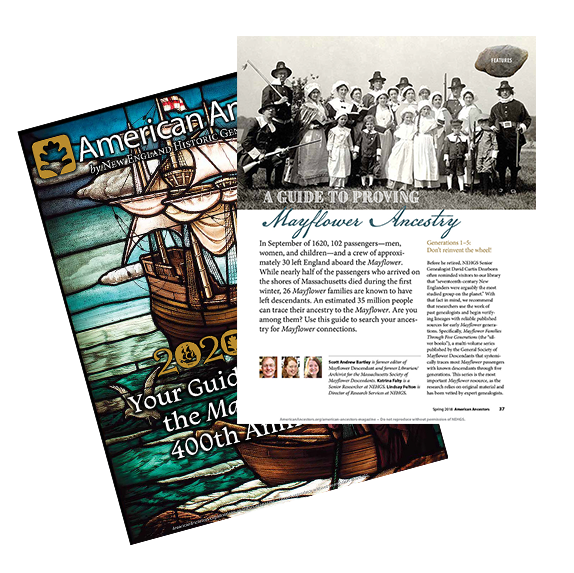 I have been reviewing the Spring 2018 issue of
NEHGS' American Ancestor
and was given a much needed shot in the arm. The topic deals with the upcoming celebrations of the 400th of Mayflower event which are centered around 2020. Frankly, the scope was quite good, and we can look forward to more of this over the next couple of years and beyond.
Can't wait for all of the settlements to have their party:
Timeline of settlements
(from Weymouth (1622) to Worcester (1673). And, after. Of course, the list is incomplete (Wikipedia requires continual editorial help).
So, why a shot in the arm? Well, I'm in my 10th year of this work which I have done independently, but I already knew research, mathematics, and computing (which gives the particular bent of my posts). Of course, I started with ancestry[.]com but was off of it soon due to a remark by a D.A.R. registrar. Never looked back. Rather than research other options, I started my own format (works for me) and have millions of items to organize. As I have worked applications (a good exercise and test) to lineage groups (including GSMD), I got the chance to hone the material. As well, I did Dr. Frank's line which I have in ahnentafel (sourced) form (his two paternal grandparents - BB Gardner and LF Wilson).
Along that line, I just looked at a
genealogy
chart handwritten by Dr. Frank in 1907 (thereabouts). His father's line agrees with what I documented. However, I have more. I noticed that some Mayflower people are now mentioning
John Billington
(see NEHGS, above). I get to bring up
Nathaniel Eaton
(friend of John Harvard and first head of his school). And, I have a lot of material including a paper written by a member of The Eaton Families Association. The next TGA (print of Vol III and Vol IV) will include an article on this.
Essentially, Dr. Frank did not expand this tree, publicly. I can see why given what I have read out of Harvard. But, the whole story bears significance of some turmoils now. Just as the 200th of the western expansion pre-dated the major conflict twixt the north and the south, the 400th had lots to tell us about the U.S. and what it might be about. But, just in himself, Nathaniel is interesting (holder of several degrees, including M.D. and Ph.D); his Catholic leanings may have played a large part in his treatment, especially that which might be termed propaganda.
I have done the genealogy of enough now to have covered New England and Virginia and its environs. That leads to things that we ought to be doing. We need an effort to publish the first five generations from Thomas and Margaret. I finally got a chance to look at the Silver Books. Too, we need to go back and re-look. David T. Gardner, from a Pennyslvania Gardner family, has looked at how he might relate to Thomas. See
King's Slayer Court
. This was the first part that was published in TGA Vol. III. This and the next part will be in the print version (before summer 2018). BTW, mentioning propaganda, David has found some interesting Tudor material (interpretation will always an issue - like the ad, what's in your wallet? - how do you see this is not something to leave totally to experts). Thomas is almost a tabla rasa from what I have seen.
Yet, there is a lot that ought to be collected and organized. That is one task; as well, weighing in with a proper view ought to be more easily done when is little negative influence (such as,
Endicott hanging Mary
- no last name is needed).
So, we can watch the NEGHS over the next couple of years and learn a whole lot.
Too, we can look at the particulars that Thomas and Margaret bring to bear. Has that sort of thing not waited long enough for some attention?
Remarks:
Modified: 01/10/2022
12/30/2018 --
The 400ths
will be one theme next year.
01/10/2022 -- Changed the NEHGS image which disappeared. This year, it's Weymouth's turn.